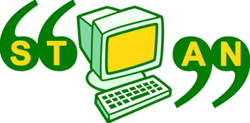 Becoming A Volunteer
---
There are a variety of interesting jobs to be done, and our volunteers bring a wide range of skills to the organisation. Some volunteers are in full time employment, others are retired and the mix is useful to cover daytime and evening production sessions. It is important to us to have the right person in the right job, either in front of the microphone or behind the scenes. Reliability and commitment are essential amongst all the volunteers.
Below is a list of the main jobs. If you are interested to find out more about them, why not visit the studios and meet the volunteers and see if you would like to be part of the team. We can give you training if you need it. Contact the Swindon Talking Newspaper Association on stan@swindontalkingnews.org.uk or telephone 01793-522511 and leave a message on our answerphone.
JOBS
Whatever the job, all volunteers:
Are able to join in with other volunteers
Enjoy helping out
Receive an introduction talk and appropriate training
Make tea or coffee

Producer
The producer is responsible for the content of each edition as well as its recording quality. Producers work Wednesday evenings on a rota system.
Organises editor to provide news items to last 55 minutes
Organises engineer for recording
Puts together items to be recorded
Organises individual contributors
Organises producer contributions
Starts recording the news section at 8.00 p.m.
Editor
The editor selects the news stories for the section of the recording from the week's Swindon Advertisers. It is important that the news stories selected are a true representation of the week's local news coverage.
Culls the Swindon Advertiser for the previous 7 days
Selects enough stories to last 45 minutes plus 10 minutes for reserve
Edits out certain words e.g. today, yesterday etc.
Ensures incomplete court cases are concluded with "case continues"
Looks for other items which may be used in section 2
Attends a bi-annual evening for listeners and volunteers.
Engineer
The job of the engineer is to ensure good sound quality on the master digital recording.
Is familiar with the recording equipment controls
Records to a satisfactory standard
Draws attention to poor quality of master recordings
Advises on obtaining new equipment.
Technical Manager
The technical manager is responsible for ensuring that the recording equipment is in the best possible condition, to help us maintain consistently good recorded sound quality. He/she also looks after the computers.
Advises on the best equipment at the most economical prices
Repairs or gets repaired all electrical equipment
Advises as to the latest developments that may be of use
Is familiar with the controls so as to be able to advise others
Monitors the engineering quality of outgoing recordings
Carries out annual electrical tests (not statutory tests)
Newsreader
On section 1 of the recording, four readers read the articles selected by the editor. Variety in the reader's voices adds to the interest of the listener so it is essential that the four readers are different in sound but work as a team. Newsreaders are needed for an hour or so on Wednesday evenings on a rota basis.
Must have a clear voice
Must be proficient in reading skills
Must be at studio at 7.45 p.m. to scan the news items for mis-spellings, difficult words etc.
Must be available to read extra stories for section 2
Contributor
Contributors provide magazine style features on section 2 of the recording. They provide their own features which may be of local interest, or relate to visits, holidays, or any other topic, which may interest our listeners. Volunteers also contribute to regular features such as sport, What's On, thought for the week, and many others. The producer schedules contributions and may edit them to fit into the weekly recordings. Some regular features in section 2 such as what's on are recorded on Wednesday evenings.
Must have a clear voice
Must be proficient in reading skills
Provides material of general interest
Provides recordings of a satisfactory standard
Tape Administrator
The tape administrator is responsible for keeping records of listeners and keeping track of memory sticks sent out and returned. The tape administrator needs to be available on Tuesdays and Wednesdays.
Bar scans wallets
Ensures returned are ready for reuse
Ensures memory stick stocks are sufficient
Registers and sends out new listener memory stick
Deals with letters and shape requests in wallets
Co-ordinates extras to TN recording e.g. competitions, AGM Agenda etc
Records and deposits listeners donations
Keeps records and announces on tape listeners birthdays
Co-ordinates all tapes going out
Co-ordinates sending out prizes and has input into competitions
Produces computer reports
Reports to Committee
Copier
Copiers copy, check and put memory sticks into wallets ready for posting suffient copies of the talking newspaper each week. Memory stick copies are made using a master memory stick with a USB memory stick multiple copy machine. One of the copiers is responsible for checking out, via the computer, memory sticks sent to listeners (as with books in a library). Copiers work in teams.
Must be available late on Wednesdays or early Thursdays
Must know how to operate the fast USB memory stick copiers
Must operate 'boom box' players to check memory sticks.
Publicity Officer
Publicity is needed to ensure people in the Swindon area know about our service.
Gets the aims and objects of this Association known in and around Swindon
Reaches potential listeners, volunteers and benefactors
Produces high quality information in various formats
Fund-raiser
We depend on donations to maintain our service to listeners.
Raises finance for the Association
Organises events
Keeps individual accounts for each event then submit to the treasurer
Co-ordinates letters with the Secretary.
IT People
Volunteers with specialist skills develop systems to support the current work of the organisation organisations and prepare for the introduction of new services in the future. Volunteers should be competent users of Microsoft Office, and have expertise in one or more of the following:
Access database development
Web site development
Knowledge of bar scanning technology
Knowledge of MP3 and related technologies
Special Projects People
Volunteers that work on special projects, such as extending our service to listeners with non-visual disabilities. Volunteers for this type of work operate under the guidance of the Committee. They must be:
Confident, articulate and mature
Reliable
Available during the working day for a few hours each week
Organise premises and non-technical equipment.
Organises layout of rooms
Allocate areas for specific tasks
Keeps inventory of all technical equipment
Keeps inventory of all non-technical equipment
Manages cleaning operations
Ensures that all equipment is in working order.
Treasurer
Keeps a record of all incoming and outgoing finances
Ensures accounts are in credit
Invests financial assets in a safe investment and receive good return
Makes easy arrangements to be able to pay into accounts
Arrange to have three signatures which allows for two to sign at anytime
Attends Committee Meeting and reports financial status
Arranges for audited accounts to be presented at the AGM
Secretary
The secretary is responsible for correspondence and meetings of the organisation.
Minutes and Agendas of Committee Meetings
Minutes and Agendas of AGM
Minutes and Agendas of Production Meetings
Minutes and Agendas of Sub-Committees
Replies to letters.
Chairman
Chairs Committee Meetings and AGM
Organises and manage rotas
Manages the general organisation
Resolves any problems relating to listeners or volunteers
Vice-Chairman
Represents the Association in the absence of the Chairman
Chairs Committee Meetings and AGM in the absence of the Chairman.
If you are interesting in any of the jobs described above, please contact the Swindon Talking Newspaper Association on stan@swindontalkingnews.org.uk or telephone 01793-522511 and leave a message and contact number on our answerphone.
---
STAN Home Page
---
Swindon & District Talking Newspaper Association
Registered Charity No. 284665
stan@swindontalkingnews.org.uk
Telephone 01793-522511