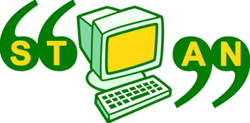 Local news for local people by local people
---



The weekly Swindon & District Talking Newspaper (STAN) gives blind and visually impaired listeners an independent means of keeping in touch with what's going on in the local community.

The recording is produced weekly and is circulated to listeners on a memory stick. It contains local news items from the Swindon Advertiser, and features of general interest including sport, local history and interviews; plus articles, interviews and information produced specifically for visually impaired people from the BBC, RNIB and Infosound.

The Talking Newspaper is available free to any visually impaired person interested in receiving it.


---