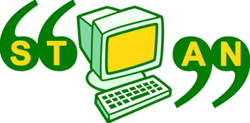 Local news for local people by local people
---



The weekly Swindon & District Talking Newspaper (STAN) gives blind, visually impaired and listeners with other disabilities the independent means of keeping in touch with what's going on in the local community.

The newspaper is produced weekly and is circulated to listeners by means of a memory stick. It contains local news items from the Swindon Advertiser, and features of general interest including sport, local history, music and much more. The Talking Newspaper is free to anyone who lives in the Swindon area and is unable to read newsprint for whatever reason.

Enjoy our website and we hope you come again.


---